Ben Young is originally from Manchester and before establishing his Yacht Management Company, his background was as a yacht captain.
Having been immersed in the yachting industry for more than 20 years, he has become well accustomed to the needs and desires of owners and captains and is expertly placed to provide the assistance necessary to improve their onboard yacht management.
This wealth of insider knowledge and experience means that a diverse range of services can be proposed to future clients. "When a captain or an owner arrives in port, they often require assistance, whether booking a berth or managing boat accounts, controlling regulations, hiring crew members or dealing with the charter …" explains Ben Young. He knows these requirements by heart and with his hands-on experience, appreciates that logistical support is always highly appreciated by crew members.
After hanging up his captain's hat, he embarked on his next entrepreneurial adventure with a very specific idea in mind. "I started in 2007, shortly before the economic crisis with just one boat". Of course, at that time, he did not imagine he would go into business at the worst possible moment. "I had set up a small office in my bedroom and before the economic crisis, it was a privileged time as yacht owners were not concerned about looking at bills" recalls Ben. Since then, a decade of budget restraints has changed mentalities and people have become more rational with their expenses.
Despite this, the young businessman weathered the economic storm without too much trouble. He set up his office next to the capitainerie and surrounded himself with a team of 12 employees, to manage a fleet of yachts from between 30 to 60 meters. "Many of our yachts are here, in front of me" says Ben Young, pointing at the big yachts moored on Quay Napoléon.
To locate his premises in Port Camille Rayon was an obvious move for Ben Young. "When I was a captain, I often moored in this port, on this same quay, in front of the capitainerie. I was aware of the advantages of the port, ideally located between Monaco and Saint-Tropez. It is also close to the airport, provides a good protection against the wind and is pretty safe"
For over 10 years, SYM Superyacht Management has been well established in Port Camille Rayon because the British run company has installed a climate of trust with their international client base. "We have yachts in Australia, United States and beyond… and we establish budgets consistent with their needs" says the Managing Director.
When a company manage to combine trust and expertise, it goes without saying that the future will be full of promises.
SYM Superyacht Management Tél. +33 (0)4 93 34 13 94
Site : www.sym.eu Mail : [email protected]
Written by K.NATTON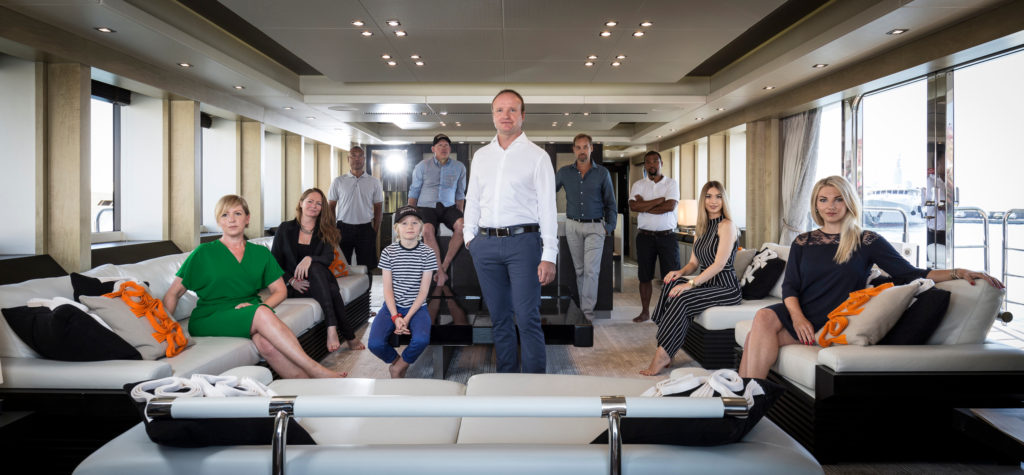 Ben Young and his team