43° 34′ North – 07° 05′ East
The New Port Camille Rayon, built in 1989, named after its founder Mister Camille Rayon, is dedicated to the yachting in particular to the deep see yachting.
Perfectly sheltered, full of features and ideally located between Antibes and Cannes, in front of Lérins Islands, the port is flying "Pavillon Bleu", for more than 20 years now.
The Port Camille Rayon counts 841 mooring berths to welcome boats from 6 to 75m length on an area of water of 13 hectares. The depth in the harbour varies from 2 to 5 meters. The big yachts are moored on the Harbour's office Quay and on the South quay.
S.N.P.V.G. – PDG Monsieur Pierre Rayon
Quai Napoléon, 06220, Golfe Juan
04 93 63 30 30
04 93 63 55 07
November to January: 8:30am – 5:00pm
October, February, March, April: 8:30am – 6:00pm
May to September: 8:30am – 6:00pm | Week end:  8:30am – 12am
Services
Water and electricity
WI-FI
Bathroom fittings and toilets
Security cameras
Car Parks
Weather reports on screen at the Harbour office, North and South quay
Technical services
 Diver available 24/7
Slipway
Contact harbour office 0493633030
Shipyard :
04 93 67 10 65
Full Station :
04 93 63 69 77
The actors of the port
Find all the good addresses
Mister Camille Rayon
Up to the end, he shaped his own legend.
Biography
At first a hero of the resistance, Camille Rayon becomes a builder. He initiated, in Juan les Pins, the "Maison des pêcheurs", in the sixties.
In contact with the sailors, he realizes that they are lacking shelters for their boats… Atypical but especially visionary, he then dashes into the conquest of maritime spaces to create shelters to welcome their boats…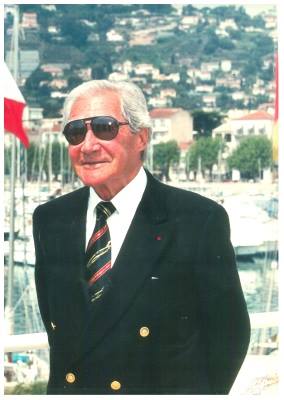 Reservation & Rates
You wish to stay in our port? Contact us now by mail: [email protected]
or book your night by phone 04 93 63 30 30 (payment by credit card)